Theory of Change: understanding inputs, activities, outputs, outcomes and impact
The 'Change Pathways Mapping' course Change Pathways Mapping  will introduce you to these concepts, you might like to follow that course too, although it is not a prerequisite.
Theory of Change
The Theory of Change (ToC) will help you to understand conceptually how you expect your activities to lead to the project's impacts. The following terms are useful to help build your ToC. Your problem and solution trees will also prepare you for building the ToC. These steps will be similar to the Permaculture Design Process. With the Permaculture Design you will have laid out inputs and outputs of your system with functions and elements.
Problem Tree- lays out the immediate, underlying and basic causes in a logical flow diagram.
Solution Tree- turns problems into solutions.
There is a worked example for Nutrition in the Nutrition Evaluation course.
See Problem and Solution Trees for a description
 see Drawing up a Problem and Solution Tree Exercise  for a worked example
Theory of Change- Shows more realistically what is planned to achieve desired outcome. Include any assumptions and activities already taking place.
ToC or logframe links inputs, activities, outputs, outcomes and impact in a diagrammatic way. More on logframes later
Clarifying the Terms used in Monitoring and Evaluation:
Input:  Some resource that the project supplies, such as training materials or building materials that leads to…
Activity: Something the project does that leads to…
Output:  An immediate product of the project, such as a training session that leads to…
Outcome: The beneficial results of the outputs – such as increased knowledge of participants      that leads to…
Impact: The lasting effect of the outcome, such as improved nutrition behaviour
Assumptions: Things that are outside the control of your project that need to be in place for the activity to have impact
Links to other Projects Things that other projects or organisations or individuals can provide
Permaculture designers will be familiar with some of these terms, that have rough equivalents in MEL.
Permaculture designers identify the elements and functions of their systems.   For example, a Permaculture System might be considered a group of functions (or outcomes) that are leading towards a goal (an impact).
Some of the terms used in Permaculture Design and their equivalents in MEL
| | |
| --- | --- |
| Permaculture Terminology | MEL Terminology |
| Aims | Impacts |
| System | Group of outcomes |
| Functions | Objective, outcomes |
| Element, Yields | Outputs |
| Inputs | Inputs |
 An example of a Theory of Change from Beekeeping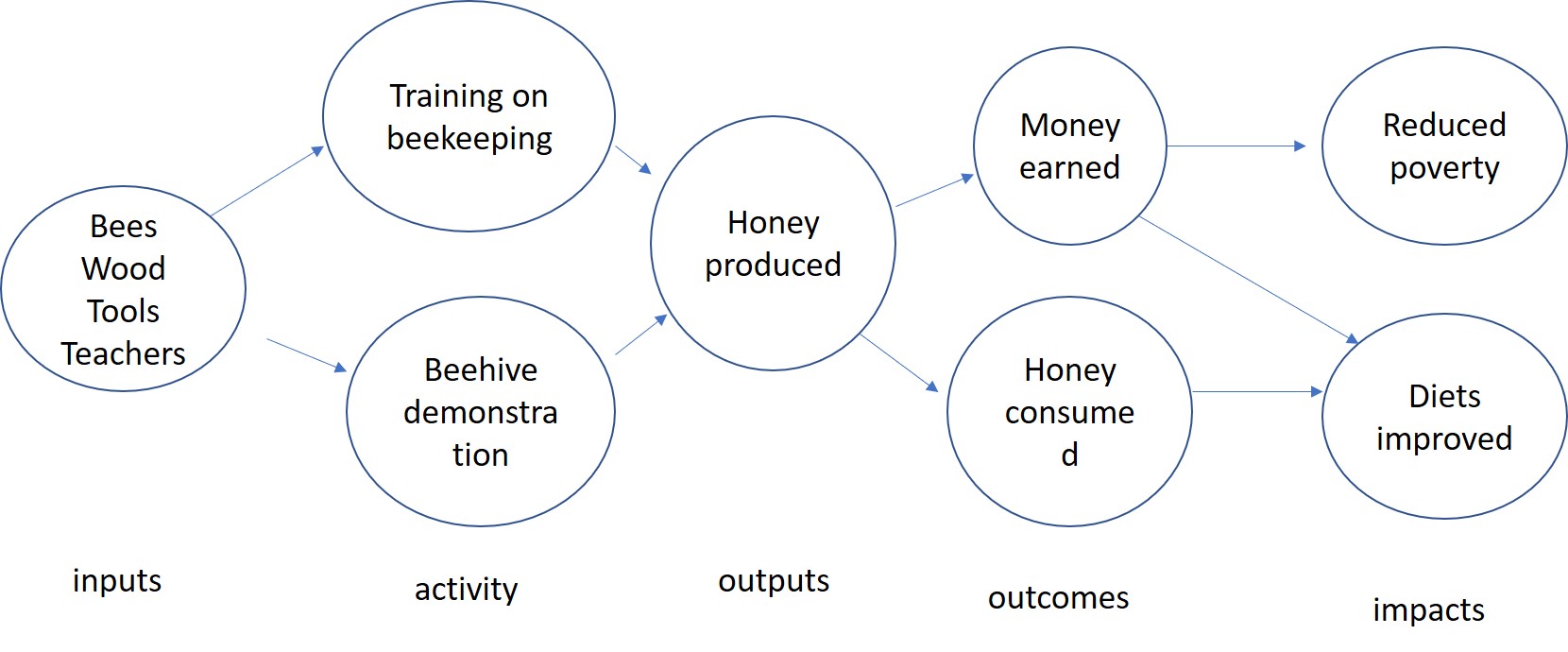 From the above example, we have

The above example, is linear, but a more complex ToC can be build from multiple activities towards a common impact. This is shown in later lessons.