Planning a Qualitative Assessment for your project
Getting Started with your Qualitative Assessment
What do you want to find out?- Think about a particular activity
How do you think the activity will affect people in your project (draw up inputs, activity, outputs, outcomes)
what works, what doesn't
Specific or general benefits or disadvantages
Who knows about this topic? Are they happy to talk to you?
How can you reach them? How many people to talk to?
Draw up some questions- open ended and flexible.
Compile the answers and see the patterns.
The beekeeping example shows you how you can go about designing your survey. There is an exercise for you to do with your own project.
Beekeeping example
How to do a qualitative assessment to find out how well the beekeeping activities are working
Simple Theory of Change drawn up to illustrate Beekeeping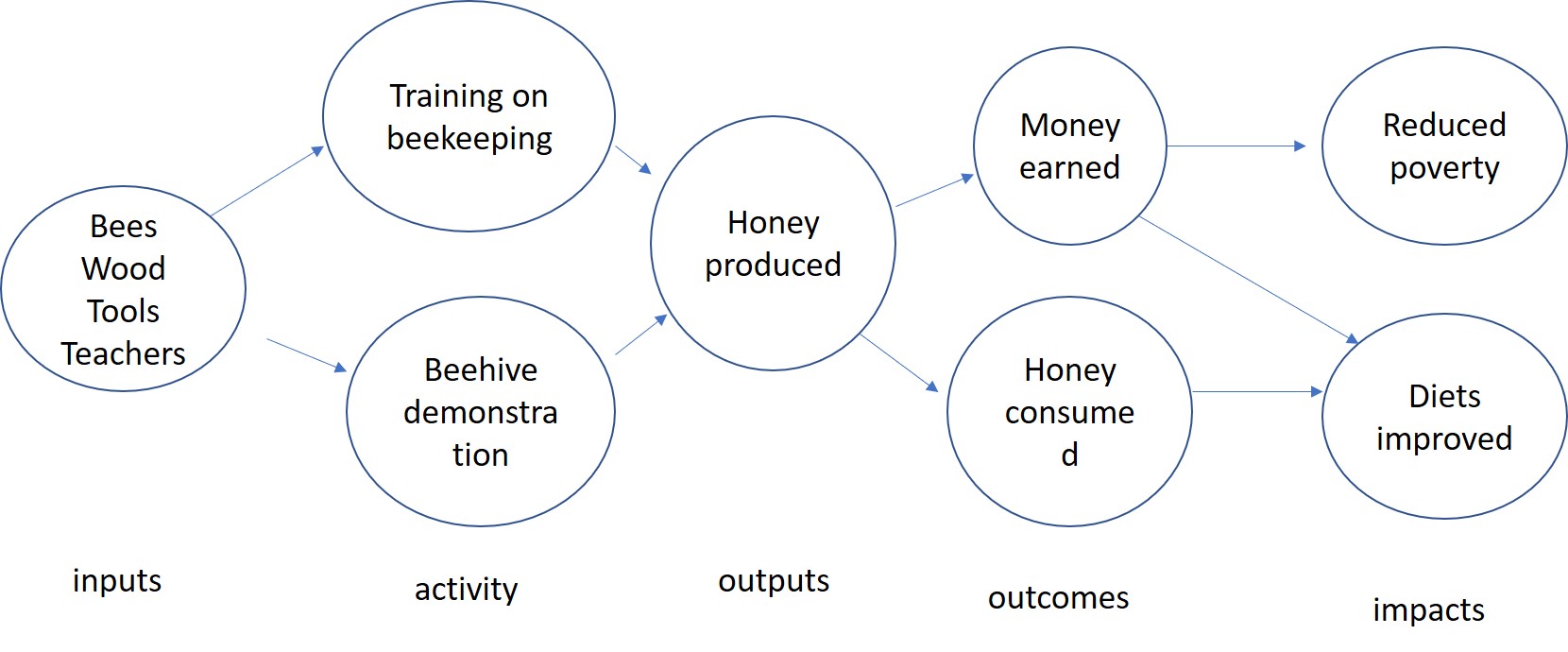 Interviewees
Visit several communities ideally with different trainers and in different geographical areas. Use 'sampling to redundancy' to decide how many people to interview. What this means is that you keep asking people questions until no more information is added by asking more people. This is experience, you will get a feel for it.
Suggested Questions to ask/ who to ask them
Who participated in beekeeping training? Were any people unable to attend who wanted to?/ project manager
Did you find the training useful on beekeeping? How? / training participants
Have you been able to start your own beekeeping? Any challenges? / training participants
What do you do with the honey you have produced? / beekeepers
What has the income from honey enabled you to buy? / beekeepers
Have you incorporated honey into your diet? If so how? / beekeepers and household member responsible for cooking
Observation: Do you see beehives in the communities
Observation: Do you see honey being consumed or sold in the market
Additional open ended question
Are there any other advantage or disadvantages to beekeeping? / beekeepers and trainers
Do the bees help in any other ways? / beekeepers, trainers, other community members
Has having honey helped your household in any other ways? / beekeepers
To explore in more detail about how much is sold or consumed:
with 100 beans ask the respondent to make 2 piles to show the proportion sold or consumed
Activity: Plan a qualitative assessment for your project
Start to think about your own project:
Draw up your theory of change for one specific activity to include inputs, activities, outputs, outcome
Who will you ask about the activity?
Consider different subgroups- (e.g women vs men, participants vs non participants)
What questions will you ask?
When will you do the survey?
Who will collect the data?
Who will put together the results?
Who is interested in the findings?
Once you have carried out this exercise for one activity, you may be able to think more broadly about designing your MEL plan (see lesson on Designing MEL) [LINK]