Problem and Solution Trees
Now you have an understanding of the problems and possible causes of nutrition problems in the project area, a useful next step is to map them out into a 'Problem Tree' and from that you can build a 'Solution Tree' which will then help you build a 'Theory of Change' for your project. All these things are explained below:
Problem and Solution Trees and Theory of Change
 What is a problem tree, a solution tree and a Theory of Change (ToC)
Problem Tree- lays out the immediate, underlying and basic causes in a logical flow diagram.
Solution Tree- turns problems into solutions.
Theory of Change- Shows more realistically what is planned to achieve desired outcome. Include any assumptions and activities already taking place.
What are the Purposes of Problem and Solution Trees and the Theory of Change?
Understand problems and causes: By drawing out the problem tree it will become clear by asking a series of 'why' questions the deep rooted causes as well as some that might be easier to tackle.
Clarify what your project is already doing: It is helpful to see what you are doing in your project that is already making a contribution to the reduction of malnutrition.
Improve nutrition impact: The gaps in the problem and solution trees can be used to explore new ways of working and designing new activities or new partners to address the problems
Identify potential partners: Your project does not have to address all causes but it helps to understand where you are best placed to have some impact and affect changes. Other organisations might be better placed than you are to tackle some causes (for example health services treat illnesses).
Design Monitoring and Evaluation (M&E): You will be clear what changes you are looking for, not just in the final impact on Malnutrition, but in the intermediate steps toward the final impact. You can then design your M&E system and choose suitable indicators to measure.
Assess your assumptions: Once you produce your Theory of Change you will be able to understand more clearly what assumptions you are making – the assumption is a condition that needs to be met for an activity to result in the desired outcome.
NUTRITION PROBLEM TREE
The nutrition problem tree will start with the main problems identified above informed by the UNICEF causal framework.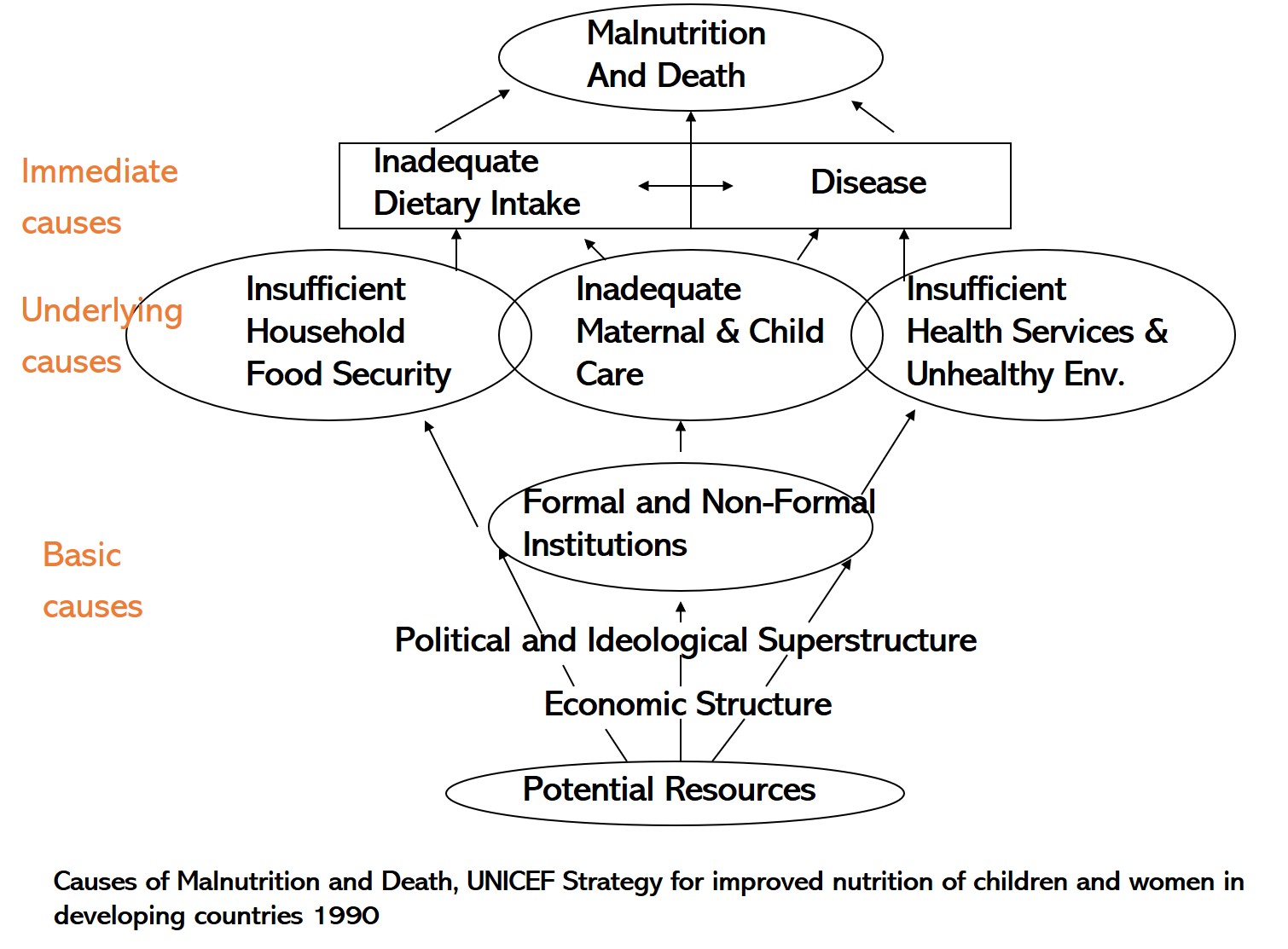 The idea of the problem tree is to map out a cascade of problems leading to the overall problem you want to identify. The example below from Afghanistan illustrates this: Malnutrition is the overall problem to be addressed. Above that the project has identified low consumption of diverse food and diseases as the immediate problems.
Next we ask why are these problems happening. In the case of low consumption of diverse food, the problems identified are no information about useful foods and poor access to enough foods. For disease, it is poor hygiene and low access to health facilities. And so on to the reasons for these problems. (see below)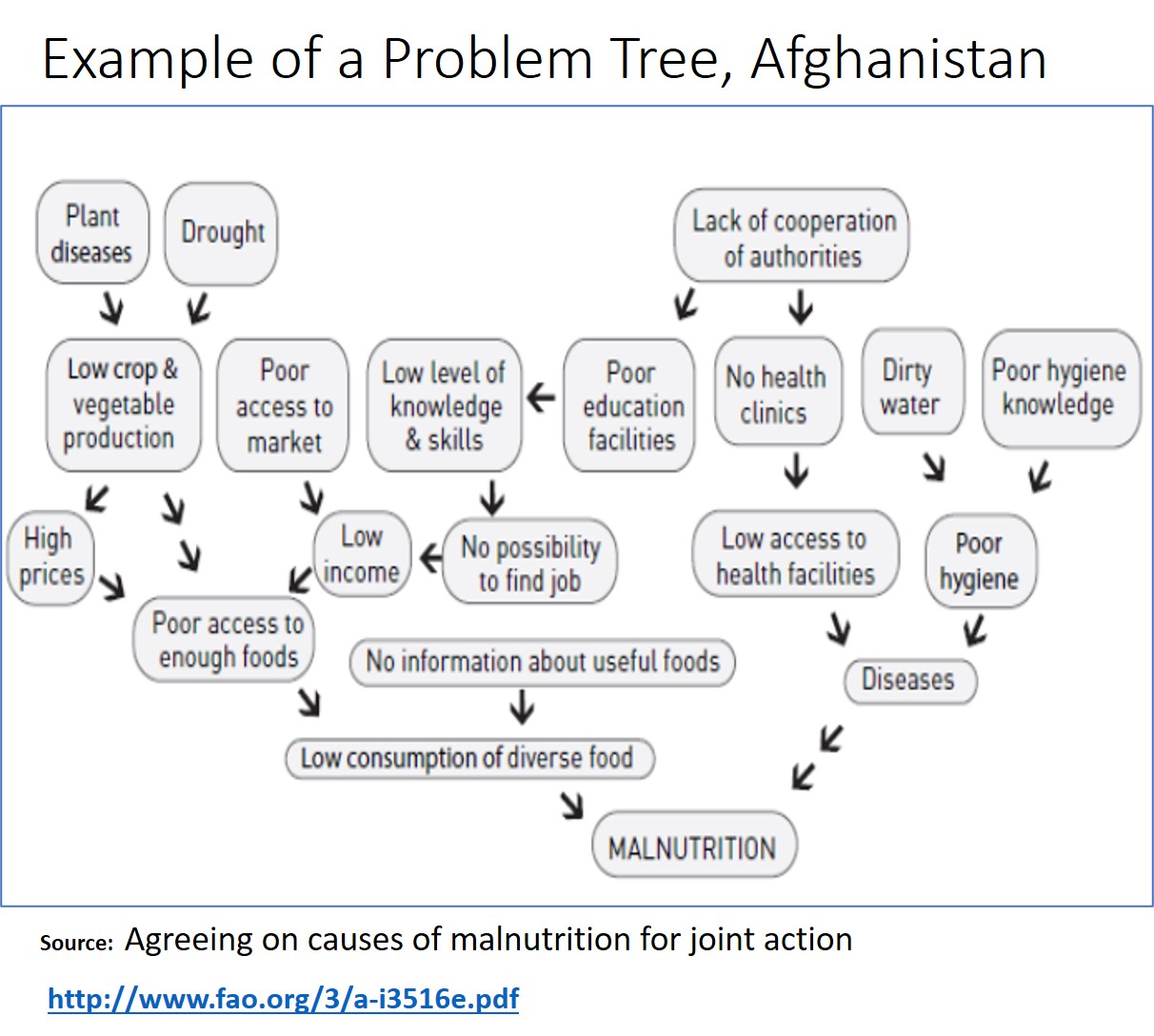 NUTRITION SOLUTION TREE
Once you have drawn up the Nutrition Problem Tree it can be turned into a Nutrition Solution Tree where we turn the problems to solutions. For example, where there was a hygiene problem, and knowledge was lacking; an activity would be health and hygiene promotion part of your project. So far, the exercise is straightforward as each problem is turned into a solution. At this stage it is not necessary to think about what your project is able to achieve, it is an exercise in defining an ideal situation where all problems are solved.
Below is an example of a Nutrition Solution Tree to help illustrate the exercise.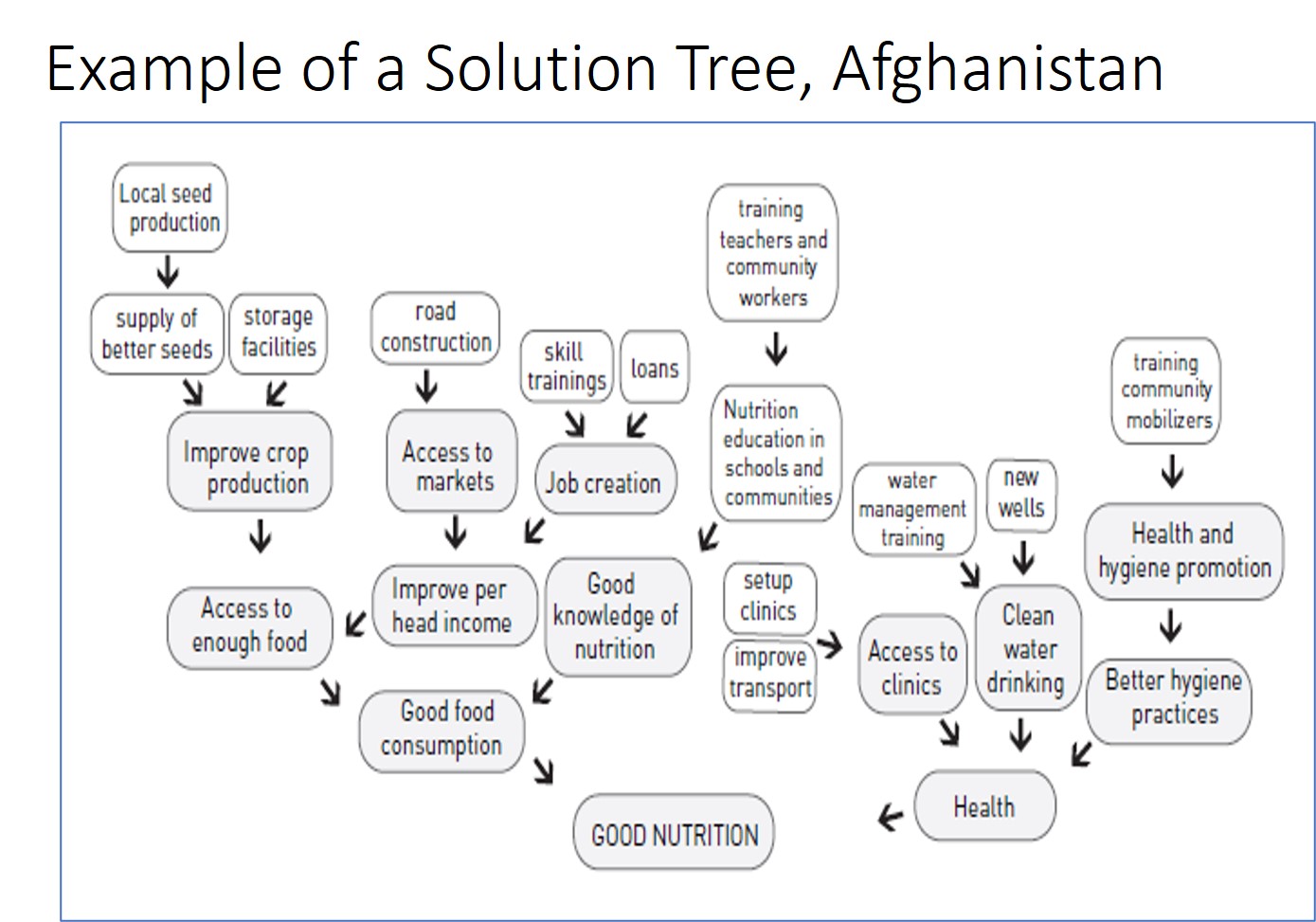 Now you can use the information from your problem analysis to draw up your own problem and solution trees.
Developing a 'Theory of Change' will come later.