Introduction to Nutrition
To design and evaluate your project for Nutrition Impact, it is important to have some technical understanding about Nutrition. The following technical information should give you enough to get started, and you can follow the references to know more.
Some technical information about Nutrition and Malnutrition
Nutrition refers to the intake, absorption and utilization of food in relation to our body's dietary needs. Nutritional status of a person is therefore how well they are nourished. Good nutritional status requires a good quality and adequate diet but also depends on how well the food can be absorbed and used by the body for overall health.
Malnutrition, on the other hand,  is a condition in which there is poor quality/quantity of food intake, absorption and utilization.
Food is made up of many different nutrients. The nutrients have a range of functions – including structural and functional. Carbohydrate, fat and protein can be used to provide energy for metabolism. The micronutrients (minerals and vitamins) have special functions, related to the biochemical pathways that they are needed for. A diverse diet including foods from different food groups is the best way to ensure that you take sufficient nutrients for all functions. We will discuss the classification of foods into food groups in a later lesson.
The full range of nutrients are shown below. These are mostly essential nutrients, in other words, they are all required for essential functions in the body. There are also some non-essential nutrients that can improve health, but are not essential. The nutrients highlighted in red are the ones that are often identified as deficient.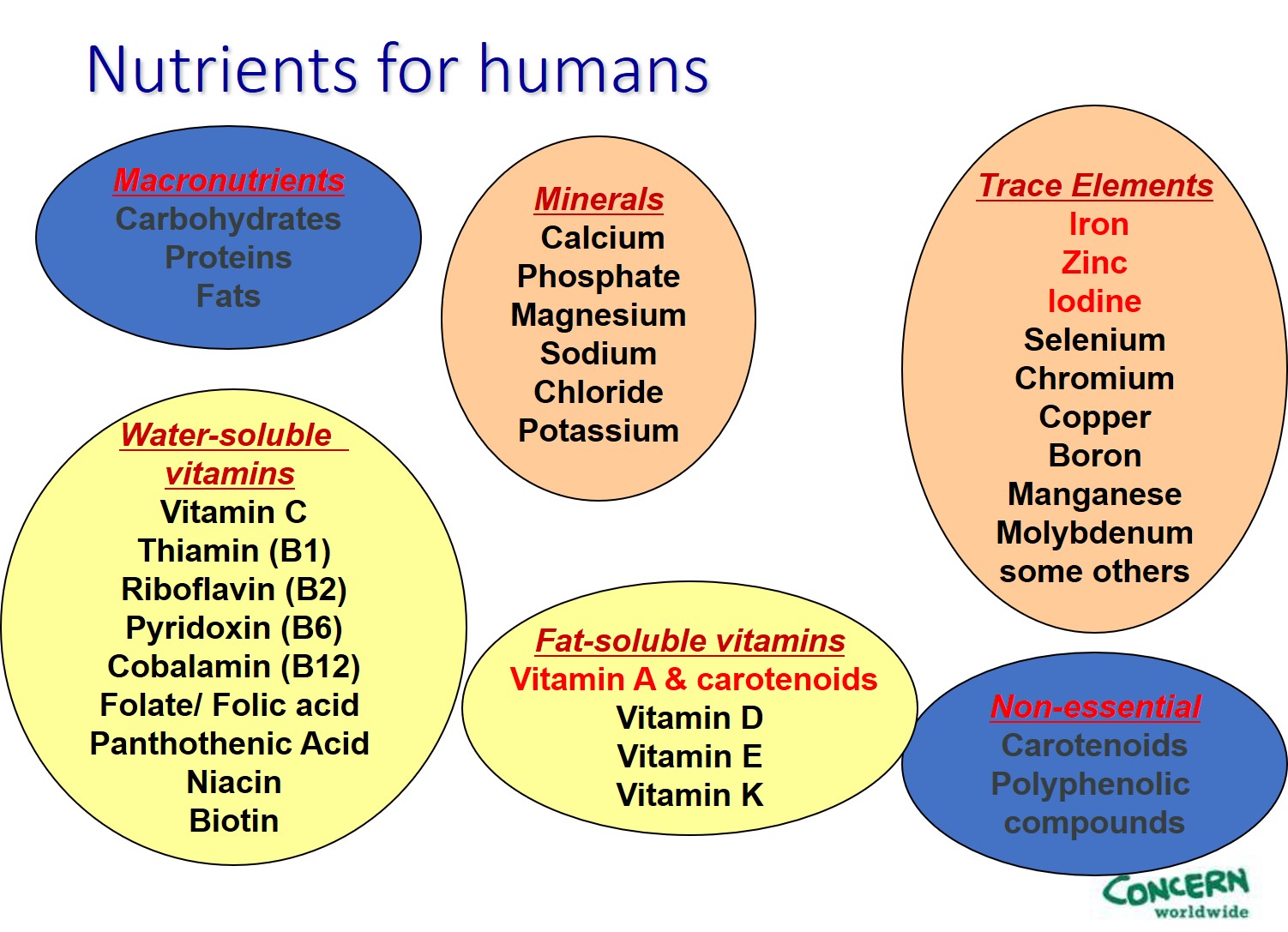 Malnutrition
The diagram below shows the different types of malnutrition. Malnutrition is an umbrella term that includes 'all forms of malnutrition' which means overweight, undernutrition and micronutrient malnutrition (otherwise known as the triple burden of malnutrition).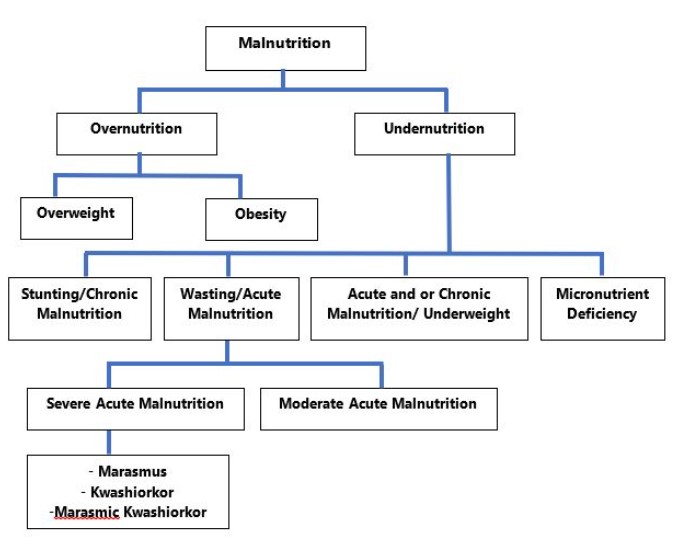 Overnutrition
This form of malnutrition results from energy intakes from food and beverages that exceed children's energy requirements. Overweight increases the risk of diet-related noncommunicable diseases. Overnutrition includes:
Overweight which is a more moderate form of overnutrition
Obesity is a more severe form of overnutrition which predisposes to increased risk of many conditions and diseases.
Undernutrition includes the following types:
Stunting – someone who is too short for their age.

Without good access to suitable, nutritious food, health and a caring environment at an early age, children are more likely not to reach their full growth potential. In some cases, this can be severe, resulting in irreversible physical and cognitive damage. Only early action can prevent this. Stunting is most likely to occur during childhood but the devastating effects of stunting can last a lifetime and even affect the next generation

Wasting – someone who is too thin for their height.

Wasting is the result of recent rapid weight loss or the failure to gain weight. A person who is moderately or severely wasted has an increased risk of death.  There are 3 types of wasting: marasmus, kwashiorkor and marasmic kwashiokor. All are dangerous conditions, particularly for young children. Treatment for uncomplicated wasting is straightforward and children respond quickly. Treatment can be more complicated when a child has lost appetite and medical intervention is necessary.
Some people suffer from more than one form of malnutrition – such as stunting and overweight or stunting and wasting. There are currently no joint global or regional estimates for these combined conditions.
Micronutrient malnutrition

vitamins and minerals and trace elements are vital to healthy development, disease prevention, and wellbeing. Except for vitamin D, micronutrients are not produced in the body and must be derived from the diet.
The most common deficiencies are, vitamin A, iron, iodine, zinc. However, many other deficiencies that do not have specific deficiency symptoms may go unrecognised.
There is a long list of vitamins, minerals and trace elements, some of which are required in small quantities and all are required for health.
All forms of malnutrition (undernutrition, overweight & obesity and micronutrient deficiencies) can co-exist in populations. Reports show 88% of countries face a serious burden of either two or three forms of malnutrition; 2 billion people lack key micronutrients; 155 million children are stunted; 52 million children are wasted; 2 billion adults are overweight or obese; 41 million children are overweight (Development Initiatives Poverty Research Ltd 2017).
Globally, malnutrition in all its forms is the greatest cause of death and morbidity. In 2017 as many as 11 million deaths annually and 255 million Daily Adjusted Life Years (One DALY can be thought of as one lost year of "healthy" life) could be attributed to malnutrition, and low intake of whole grains and fruits were important contributors. (Murray 2019).
Mineral micronutrient malnutrition is widespread but there are insufficient global data to quantify the problem: only anaemia (related to Fe deficiency and other causes) and iodine status are assessed in any detail and the data have not been updated since 2005. Iodine deficiency was estimated at 35% globally (WHO 2004), and the global prevalence of anaemia for the general population was estimated at 25% (WHO 2005). For other essential mineral nutrients, a lack of data means that the full extent of global deficiencies is unknown.
For other essential mineral nutrients, a lack of data means that the full extent of global deficiencies is unknown
Consequences of Malnutrition
Although child deaths are caused my many different conditions, 45% of those deaths can be attributable to malnutrition. This is because of the way in which malnutrition weakens the health and resistance to diseases and infections. Different types of malnutrition have different specific consequences: acute malnutrition particularly leaves children vulnerable to disease. Chronic malnutrition causes growth faltering and poor cognitive development.
Overweight and obesity are related to development of chronic diseases, such as diabetes. Micronutrient deficiencies can cause specific problems, such as anaemia (iron) and goitre (iodine) but they can be non-specific and weaken the immune system or reproductive system or weaken the bones or cause diarrhoea.
There can be intergenerational effects because malnourished women are more likely to have a low-birth-weight baby.
Micronutrient malnutrition has many consequences related to the micronutrient affected and the interactions between them cause knock-on effects. For example,
The main consequences of undernutrition are increased mortality; poor growth, reduced immunity, reduced mental capacity, poor school achievement, reduced physical and productive capacity, poor pregnancy outcomes, higher risk of chronic adult diseases.
References
Development Initiatives Poverty Research Ltd (2017). The Global Nutrition Report 2017.
Murray, C. J. L. (2019). "Health effects of dietary risks in 195 countries, 1990–2017: a systematic analysis for the Global Burden of Disease Study 2017." Lancet 383: 1958-1972.
UNICEF (1990). Causes of Malnutrition and Death, UNICEF Strategy for improved nutrition of children and women in developing countries
WHO (2004). Global Database on Iodine Deficiency. https://www.who.int/vmnis/database/iodine/iodine_data_status_summary_t2/en/.
WHO (2005). "Worldwide prevalence on anaemia 1993-2005 https://www.who.int/vmnis/database/anaemia/anaemia_status_summary/en/."