Nutrition problems – how to assess them
If you are going to do a Nutrition Evaluation and design your project to improve nutritional status of the population, it is important to understand what sort of problems there are in the area of your project. This is so you can plan how you expect your project to work and you can also know how to plan your evaluation. This does not have to be very detailed, but it will help you to know what are the main issues.
You will already know the area that is covered by the project. During the design and set up of your project, the geographical boundaries are defined, so as far as possible, the information about that place is the most relevant. For a Permaculture Design, much of this information could have been gathered in the 'Observation, Boundaries, Resources' analysis of your project but there may need to be more detailed information related to nutrition.
There are several ways of finding information so you can do your own Nutrition Assessment:
COLLECTING INFORMATION
The table below shows different sources of information for a Nutrition Assessment. This table is taken from:
m7-measuring-malnutrition-population-assessment-entire-module.pdf (ennonline.net)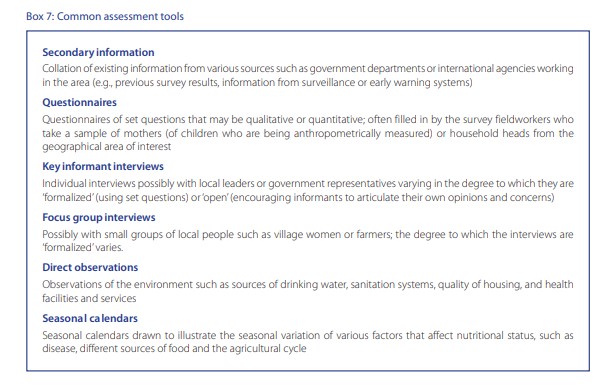 Here is a suggested step-by step guide for you to follow:
A step-by-step guide to finding out about Nutrition in your project area
It makes sense to start with published data and then go on to talk to knowledgeable people in the area (Key Informant Interview). This is going to be quicker than carrying out a quantitative survey.
Secondary data (reports)
First, review the DHS (Demographic and Health Survey) data for your region (see resources list below). This will give you some useful information on malnutrition as well as some of the underlying conditions. The information is broken down by region and other geographic relevant features, such as highland and lowland areas relevant to your country. This means that you can look up the data relevant to your project area. You can also compare this to other parts of the country to see if it is better or worse.

Child malnutrition and infant and young child feeding such as percentage adequate feeding
Household Food Insecurity Access Scale as a measure of food insecurity
Access to drinking water and handwashing behaviour, protection against malaria
Sanitation, infant and child mortality, common childhood illnesses
Even if the latest data are a bit old, they will be useful to build up a picture of what are the main problems.
You can also look at other reports that are downloadable (see the box below) but the DHS should be sufficient.
Do you have any local health reports that include any data on Malnutrition? If so, see what are considered the major problems?
Key Informant interviews
Who is knowledgeable about malnutrition and its main underlying causes (related to the UNICEF causal framework in the previous lesson) in the area of your project? This could be NGO (Non Government Organisation) staff, health workers, agriculture extension agents for example. It could also be You or members of your team.
The following is a suggested list of questions to ask them. Some of this information you might already have from the secondary data.
Nutrition Problems
Is there a problem of chronic malnutrition (stunting), acute malnutrition (wasting) or overweight or obesity in the area?
Who are the most vulnerable to malnutrition? Is it particular age groups, or males or females, poorer groups, the landless etc.?
Are there known micronutrient deficiencies, such as iron-deficient anaemia, or iodine deficiency or vitamin A deficiency?
Dietary intake
What are the main problems and opportunities related to diets? Do people have enough to eat? Is there sufficient variety of foods in the diets? What are the gaps and what is being consumed too much?
Do young children have special nutritious foods from 6-24 months and are they exclusively breastfed to 6 months?
What are the food security issues? – is there a food shortage, poor quality food, food that is unaffordable?
Adequate maternal and child care
What are the maternal and child care issues? Is there lack of knowledge on good nutrition? Do women have enough time to care for their children?
 Unhealthy environment and health services
 How is the health environment? Is there a safe supply of water? Or do people use unprotected sources?
What is the sanitation situation- is there open defaecation or do people use toilets? or poor sanitation?
What are the common childhood illnesses (diarrhoea, acute respiratory tract infections? fever)
Are health services available locally and are they affordable for the poorest groups?
Any other relevant issues?
Potential Sources of Data
Local sources
Information from local reports from surveys, the local health centre, health and agriculture extension officers or from key informants from other NGOs. It might be good to visit the local health centre and discuss these questions with a health care professional if you do not have the information from other sources.  A visit to the local Agriculture office could also be useful. Local NGOs are good sources of information, even if they do not have official assessments, they will be informed by the situation on the ground for some information.
Downloadable from the internet
National level Sources of data related to Nutrition prevalence and causes
National Nutrition information from Demographic and Health Survey which has data on nutritional status of children, and dietary diversity, in 90 countries. There are also malaria surveys and service provision assessments, but the DHS might be the most useful and you can download the latest one for your country  http://www.measuredhs.com
The World Health Organisation (WHO) Nutrition Global Health Observatory (GHO) gives health data by country  Global Health Observatory (who.int)
Food security data can be found from several sources:
Famine Early Warning System Network (FEWSNET) is a multi-sectoral surveillance web resource. It offers food security classifications at subnational level and details about current food security issues   http://www.fews.net
Integrated Food Security Phase Classification (IPC) compiles monitoring assessments of food security. The 'where we work' tab will give information for particular countries, including surveys of acute malnutrition:  http://www.ipcinfo.org/
World Food Programme's Vulnerability Assessment Mapping website compiles assessments and surveys. There is an interactive map for each country which gives undernourishment and IPC (Integrated Phase Classification) of Food insecurity:  http://vam.wfp.org/
What is considered a serious nutrition problem?

The prevalence of wasting (global acute malnutrition) less than 5% is considered acceptable by the UN but over this it is considered problematic. Chronic malnutrition (stunting) is usually much more prevalent than wasting and can reach 50% of the under 5 population. An 'acceptable' range has not been defined.
Standards exist for micronutrients, but it is difficult to come by data for many of the micronutrients. The Sphere guidelines for emergency give some indications for anaemia:
Anaemia (Non-pregnant women haemoglobin < 12g/dl; children 6-59 months <11mg/dl) prevalence in the population of 5-20% is low risk, medium is 20-40% of the population and high is over 40%
Further details on nutrition requirements, measures of malnutrition and micronutrient standards are available in the Sphere handbook.
The Sphere Handbook: Humanitarian Charter and Minimum Standards in Humanitarian Response (Fourth Edition) (spherestandards.org)
References
UNICEF (1990). Causes of Malnutrition and Death, UNICEF Strategy for improved nutrition of children and women in developing countries
 Nutrition assessments:
m7-measuring-malnutrition-population-assessment-entire-module.pdf (ennonline.net)