Theory of Change for Nutrition Exercise
Theory of Change for Nutrition Exercise
Prerequisites:
Theory of Change: understanding inputs, activities, outputs, outcomes and impact
Exercise on Nutrition Enhanced Permaculture Design (NEPD)
You will now have an idea of what a ToC (Theory of Change) looks like, it is time to try to build your own for Nutrition.
The Course on 'Change Pathways' could help you with this exercise.
AIM: to understand the causal pathways from activities to outcomes and impact of the project as a preparation for implementation and M&E planning. You won't be able to assess all the outcomes you draw out in your ToC; these will need to be prioritised – that will need further consideration.
PARTICIPANTS: Project staff initially then wider stakeholders and project participants
We will assume that your goal is to reduce malnutrition in all its forms. The problem and solution tree exercises have built up the story so far and the NEPD exercise will help you to see where you are now with your project.
The ToC may be quite complex and be made up of several strands; it may make sense to form small groups to work on separate parts of the ToC then reconvene to pull together ideas.
This exercise will help you draw up a Theory of Change (ToC) that describes how you aim to meet the project's Nutrition goal
You will need the following for this exercise:
Nutrition Problem Tree and Nutrition Solution Tree for the defined area that you have drawn up
A completed checklist for NEPD with current activities, planned and future activities.
A description of your project – what are the overall objectives and activities currently.
An understanding of the context of your area – what other organisations are doing related to nutrition
What are the nutrition problems you want to address (this will be your goal)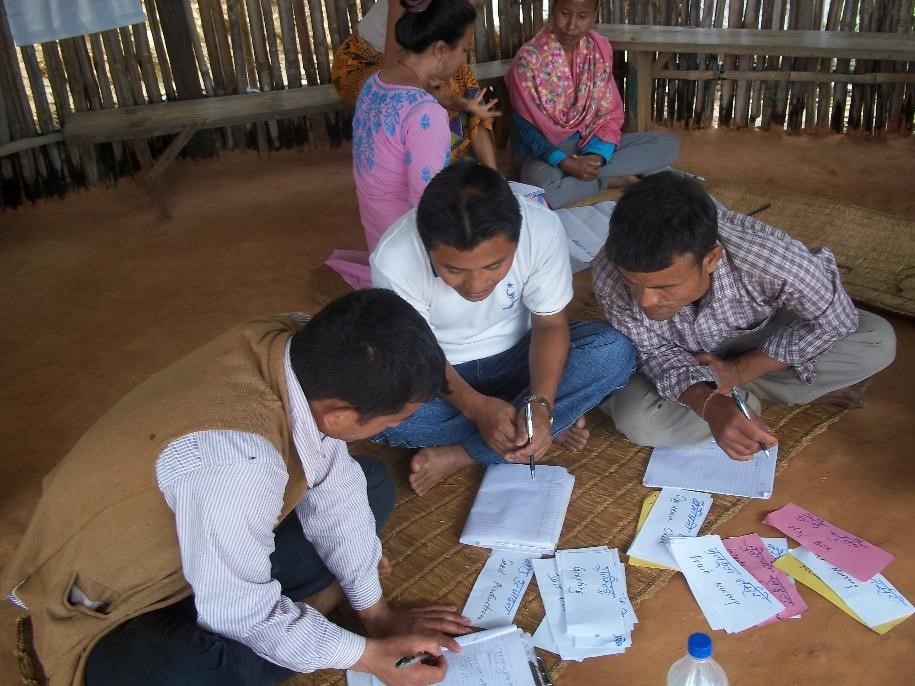 There are 2 approaches to build your ToC. Which one you use is up to you, either will work when you have a clear understanding of why you are doing the activities and how your project expects to achieve its objectives.
A. Starting with your Goals, planned impacts or objectives
Define the long-term goal- another way of thinking of your goal is the Nutrition Impact you are hoping to achieve.
Conduct "backwards mapping" to identify the outcomes necessary to achieve that goal. This is where your Nutrition Solution Tree will help. The 3 Underlying Causes of Malnutrition are a very good start for this. Write each of the outcomes on a card
Identify the activities needed to meet these outcomes. For example, inadequate diet might need cooking demonstrations. High prevalence of diarrhoea might need a sanitation activity.
Write your existing project activities on to individual cards and compare these to the needed activities identified in #3
 B Starting with Project Activities
Make a list of the project's activities that are relevant to Nutrition and write each one on a card
For each activity write a card with the outcomes of that activity
From each of these outcomes, work out how they link up to address all the underlying causes of malnutrition.
 Your goal is the Nutrition Impact you are hoping to achieve. Make sure your outcomes lead towards this goal.
After approach A or approach B 
Identify any new activities that are needed to meet all outcomes.
List the assumptions you have made in drawing the connections
Highlight where some activities are provided by other organisations, for example, health services provide antenatal care.
Once you have laid out the ToC, a member of the team presents the ToC to other groups and this will allow a full discussion of the project.
Write out the full ToC on a large piece of paper and hang it on the wall to consider for a few days before finalising.
Write a narrative that can be used to summarize the various moving parts in your theory, including key risks and assumptions and how other actors are contributing to outcomes and impact. (Note, a sample narrative to be added)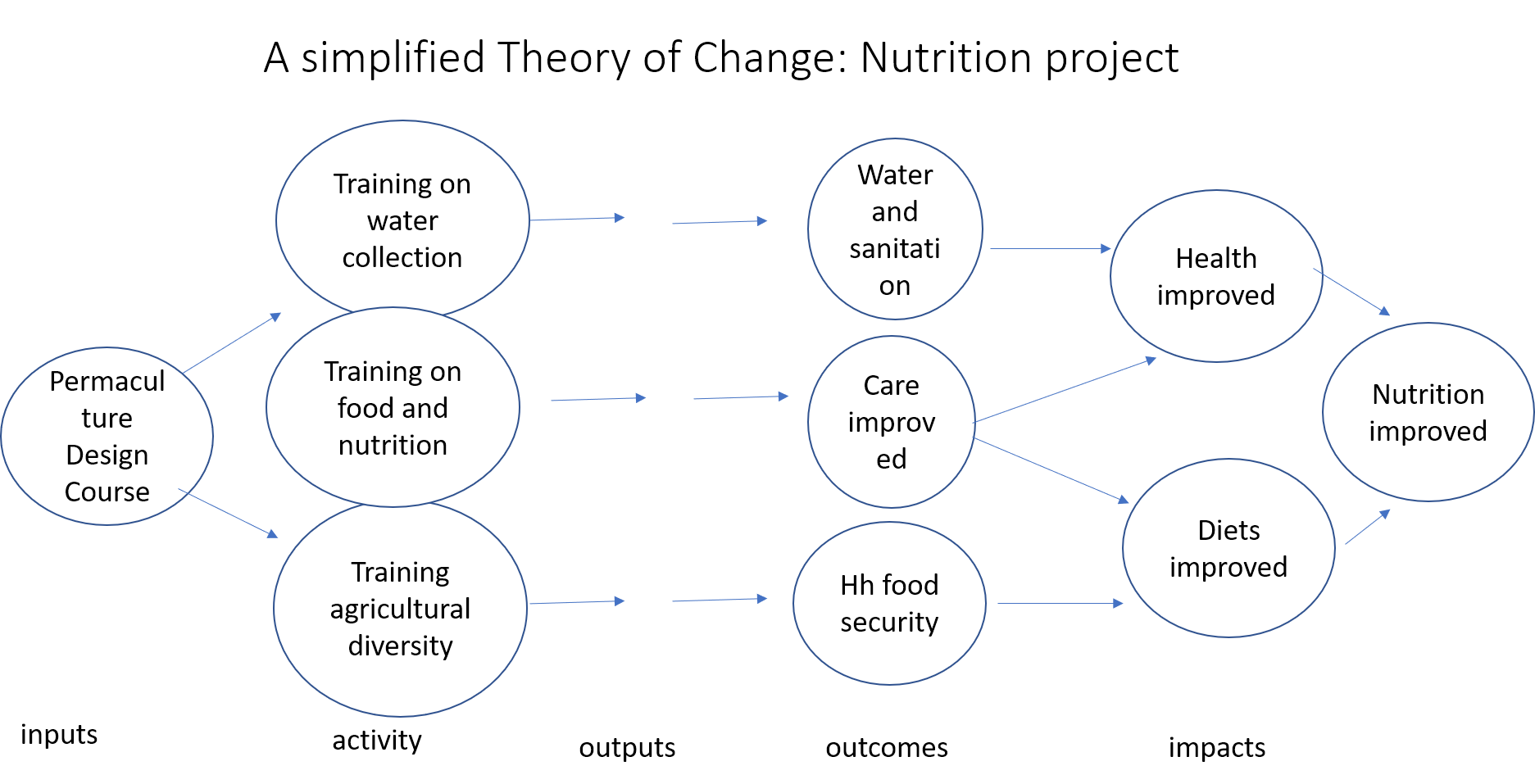 Hand-drawn ToC for Nutrition for Himalayan Permaculture Centre project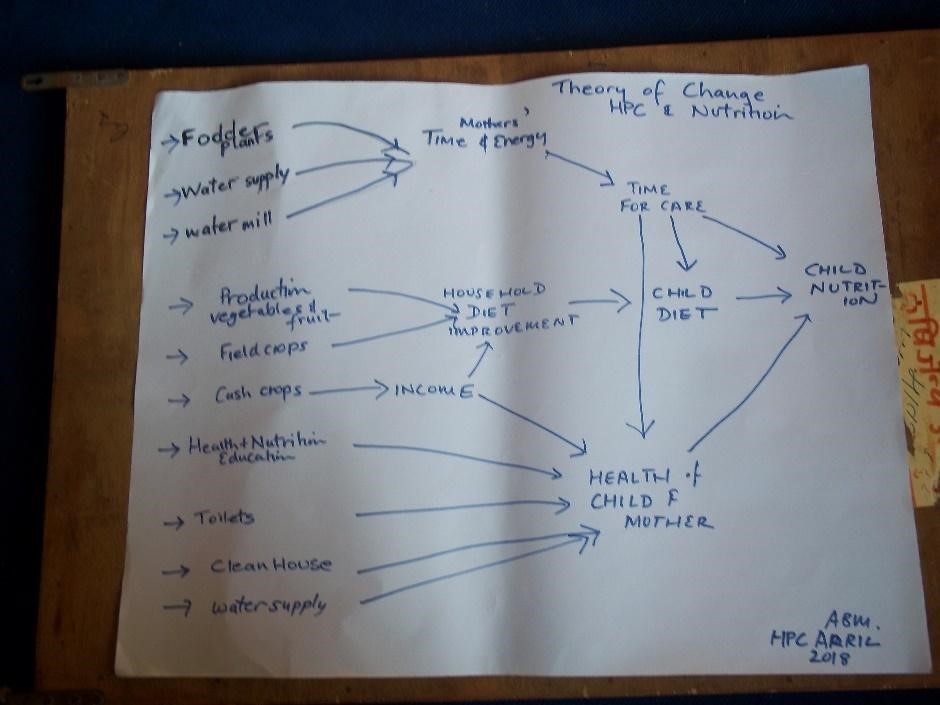 This ToC was then drawn up using powerpoint as shown below. Once you are clear about some of the key elements in your ToC you can go on to draw up a logframe, as in the next lesson.