Theory on Nutrition Enhanced Permaculture Design (NEPD)
Nutrition Enhancing Permaculture Design (NEPD).
What is Nutrition Enhancing Permaculture Design NEPD?
NEPD is a concept that we have introduced to describe a strategy that can be introduced into Permaculture projects to improve the project's positive impact on Nutrition. Permaculture Projects are very varied and some of the features of NEPD might already be present and others can be amended or added. The Exercises in this section are designed to help you to improve your project for Nutrition.
Why introduce this now? Because it follows well from the exercises on problem tree and solution tree. This is a good way of understanding better how to address any gaps you have found and to help you think about new activities and then to draw up a Theory of Change.
Here we introduce some concepts from expert technical sources, and these should be considered in light of the local context and local knowledge and the Permaculture Design work that has already been done (or is planned).
Some technical information:
FAO (The Food and Agriculture Organisation) has produced a useful guide on improving agriculture programmes and policies for nutrition and these recommendations have been incorporated as appropriate into NEPD (FAO 2013). Figure 1 (the UNICEF framework) is a useful visual representation of the areas that need to be addressed to improve nutrition- these are further expanded in the checklist below. The outcomes of interest can be grouped by the 3 main underlying causes of malnutrition, namely 1) food access; 2) care practices; 3) health and sanitation environment. Each of these areas will link to indicators to evaluate how well the project is achieving these outcomes (UNICEF 1990).
How to decide on indicators to measure and how to put together your Monitoring and Evaluation plan will be dealt with in lessons on MEL (Monitoring, Evaluation and Learning)
What has Permaculture to offer for nutrition?
Permaculture Design Systems (PDS) have much to offer to improve Food and Nutrition Security (FNS) due to their integrated multi-sector designs. Permaculture is a design system aimed to meet human needs whilst enhancing biodiversity, reducing human impact on the planet, and creating a fairer world. Using Permaculture design, integrated systems that cross traditionally separate sectors can be used to build health and nutrition of communities in a socially, economically and environmentally sustainable way. There are 3 Permaculture Ethics: Earth Care; People Care; and Fair Shares; these ethics underline all Permaculture projects and are equally essential to NEPD. There are 12 Permaculture Design Principles that are also useful and are referred to where relevant[1] . (Holmgren 2019)
Permaculture Design Principles and Ethics
Holmgren, D. (2019). "Permaculture Design Principles." from https://www.permaculture.co.uk/articles/what-permaculture-part-2-principles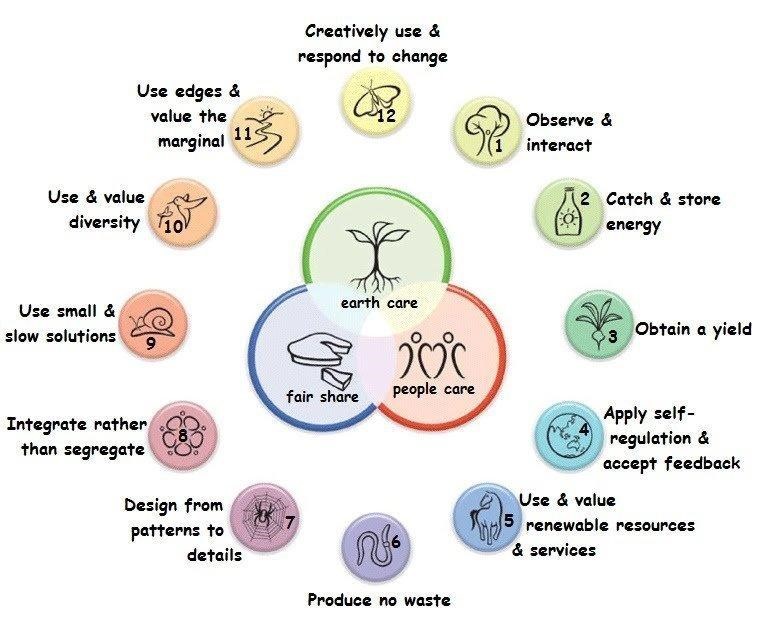 The following list may be used as a checklist to start introducing NEPD into a Permaculture project. For PC Projects the following recommendations/ checklist is organised according to the causes of malnutrition in the UNICEF framework (Figure 2):  1) food access; 2) care practices; 3) health and sanitation environment.  The list starts with some general recommendations and moves to ones related to 3 underlying causes.
Permaculture Design Principles and Ethics relate to this list and where a principle matches it has been named. You may think of other ways in which the Permaculture Design Principles can be applied to NEPD?
Without further ado…. let's get started on NEPD
Checklist for Nutrition Enhanced Permaculture Design (drawn up by Anne-Marie Mayer from the sources mentioned above). These recommendations have been linked to the Permaculture Design Principles wherever possible.
General recommendations
Understand the nutrition situation in the project area. This has already been done in the previous chapters. As part of the initial observations that are part of any PC Design, include an assessment of the nutrition situation, for example what types of nutrition problems are there and which groups are particularly vulnerable. Problem trees to understand the situation with communities. These will lead to solution trees and enable you to draw up a Theory of Change (Observe and interact).
Be inclusive and make special effort to include vulnerable groups. When designing a Permaculture project, women, landless, those with disabilities, the poor and most vulnerable groups will need to benefit to have a positive impact on nutrition. This means making special effort to include them and also making activities, or resources, trainings etc accessible to them. An initial assessment of the area will help to define and reach these groups. (People care, Fair shares)
Work with local government and other local stakeholders, engage with health and agriculture departments and bring successful strategies to local forums. At District level there is an opportunity to discuss the links between agriculture and health and to demonstrate Permaculture success stories and lessons learnt through experience. The multi-sector nature of Permaculture Design will be a way to bring together separate departments and share stories of success, failures and lessons learnt from projects. (tell your story)
Advocacy for nutrition: Does the project communicate or advocate for sustainable food systems, diets or nutrition? This could be through media, pamphlets, giving talks or in many other ways.
Collect information to monitor and evaluate your project  There are 3 main reasons for doing this: to make adjustments and improve your project for the impacts you aim to have and to mitigate against possible unforeseen harms; to add to the global evidence of 'what works'; and to provide evidence to donors to obtain funding. More details below (Apply Self-Regulation and Accept Feedback)
Capacity building to improve skills for nutrition: this is important for project sustainability and to scale out activities. Capacity building can be for people involved in the project or project partners or other organisations.
Household Food Security
Build resilient livelihoods through resilient food systems. Poverty is one of the basic causes of malnutrition and addressing poverty is the first step to reducing malnutrition. Building resilient and productive agriculture systems is the basis for FNS and for ensuring economic viability of rural communities. Perennial and diverse food crops typifying permaculture systems, increase resilience by providing food and other resources during times of annual/arable crop failure. Special effort to provide a range of options across seasons to reduce seasonal food insecurity (Obtain a yield)
Produce a range of diverse crops that are consumed locally Dietary diversification is well recognised as an approach that ensures a range of foods are consumed that meet the nutrient requirements that each food alone cannot. The main food groups to consider are fruit, vegetables, cereals, nuts, legumes, eggs, fish, dairy foods, other animal foods. Crop diversity, which is a feature of Permaculture systems (e.g. crop rotations, agroforestry, mixed farming systems) is linked to dietary diversity when the foods are consumed by the nutritionally vulnerable. Diversification also maintains and enhances ecosystems, which is the precondition for sustainable food security and nutrition. On the other hand, industrial agriculture tends to concentrate production on a few staple crops – such as wheat, maize and rice without the diversity of mixed agriculture systems. (Use and Value Diversity)
Apply agro-ecological principles in food production. Use of renewable resources and organic manures, intercropping, integrated pest management and other techniques to avoid use of artificial fertilisers and pesticides. This helps to improve nutritional quality, save resources and protect the environment (Use and Value Renewable Resources and Services).
Research and utilise indigenous knowledge of cropping systems, recipes and indigenous foods. Indigenous knowledge and use of local indigenous foods and recipes has often been lost during the process of 'industrialisation' of food systems. This local knowledge often includes ways of growing foods in synergistic combination, the preparation of foods that enables better absorption or utilisation and the use of high nutrient berries, fruits, and other foods – all using local resources. Valuing Indigenous knowledge is a part of Permaculture design systems. Do not make unnecessary changes to well tried and tested systems. (Use Small and Slow Solutions)
Optimising the nutritional quality of foods may be achieved using a step by step approach from farm to fork. For example, by using traditional high nutrient varieties and growing practices, supporting soil fertility, using nutrient-enhancing processing and cooking. Give some attention to how well food quality is preserved and enhanced through each stage from production to consumption.
Food processing using traditional or contemporary methods, and the relevant appropriate technology. Post-harvest handling, storage and processing can either enhance or destroy vital nutrients, particularly vitamins. Spoilage can also destroy the entire crop. There is a clear case for blending the best of indigenous methods and modern appropriate technology. These need to be context specific and researched as part of a PC design.
Work with food enterprises that are key to nutrition. There are opportunities to improve nutrition throughout food systems, and many components of the food system involve local enterprises. These will be dependent on the context and could include working with seed enterprises to promote vegetable production, and open pollinated varieties, working with plant nurseries to propagate indigenous and nutrient dense fruit and nut trees, working with food processors to enhance availability of local produce, maintain nutritional value and provide income.
Market access for nutritious foods. Work with markets to improve access for farmers and to improve availability of nutrient dense foods such as perishable fruit and vegetables and meat. This will require problem solving to address the constraints to blocks.
Care Practices
Design to reduced drudgery of work (particularly for women and children). Identify and design ways in which work and drudgery can be reduced in tasks such as collecting water, fodder for livestock and food preparation. This will allow more time is available for attending to young children's needs related to nutrition, such as breastfeeding and preparing weaning foods. The holistic approach of PC design means that women's time and workload considerations can be taken into consideration. By putting the right things in the right place, relationships develop between those things and they work together to support each other and save time and energy. (Integrate Rather Than Segregate)
Empowerment of women: Does the project empower women through labour saving devices, time saving, access to resources, decision making or access to education or other activities. For nutrition projects to succeed women need to be empowered to provide health and nutritional care for both themselves and their children. (People care)
Include education on diets, health, nutrition, water and sanitation for all but particularly pregnant and lactating women, adolescents and children. Good health and nutrition go hand in hand, so health promotion and healthy environments, are part of the requirements for FNS. In practice, this means teaching and demonstration of health and nutrition practices, water and sanitation systems and safe management of waste.
Special focus on improving diets is needed alongside diversifying production. We cannot assume that food that is produced will become part of peoples' regular diet, or that those in the household with the greatest need will consume it, so education and promotion about diets and cooking demonstrations are often needed. This can be a natural continuation of work on diversifying agriculture and horticulture systems that are usually part of any PC design. It may be necessary to identify the current barriers to good diets and address them in turn. (For example, knowledge, attitudes, beliefs, and also resources)
Health services and healthy environment.
Ensure adequate water supply. Water is needed for agriculture and also for drinking, cooking, and hygiene and well as for other productive activities. There is therefore a clear link between water and nutrition through food security and health. Has the project given attention to capture, storage, supply and cleanliness of adequate water? Are there alternate sources in case of problems with one source?
Ensure there is a healthy environment and adequate sanitation. Has there been adequate provision for sanitation- through compost toilets or latrines? And the knowledge and motivation to use them? Is the environment clean and free of potential hazards, such as standing water that encourages mosquitos or other health hazards?
Is there adequate access to health services?
Now you will be able to carry out your own NEPD assessment based on your own project.
You may already be doing many of these things, or not. Remember, small steps – start small! Don't expect to be able to do everything at once!
This will also help you to identify what actions you are already taking related to the Problem and Solution trees you worked on in the previous section.
References
FAO (2013). Synthesis of guiding principles on agriculture programming for nutrition
Holmgren, D. (2019). "Permaculture Design Principles." from https://www.permaculture.co.uk/articles/what-permaculture-part-2-principles accessed 280819.
UNICEF (1990). Causes of Malnutrition and Death, UNICEF Strategy for improved nutrition of children and women in developing countries