Feedback loops, inputs and assumptions
Feedback loops
Feedback =  feedback occurs when outputs of a system are routed back as inputs as part of a chain of cause-and-effect that forms a circuit or loop.
---
Activity: Look for potential reinforcing feedback loops within your project.  See below for guidance and examples.
---
You might not have noticed any feedback loops yet, or you might have mapped a feedback loop as a linear chain, where an outcome repeats itself over a few steps.  Look for potential feedback within your project, and map it by adding or changing connections.  A feedback loop often appears as one element in your map connecting 'backwards' to a 'previous' element.
Reinforcing Feedback Loop Example 1: The less soil is eroded from the land, the more plants are able to grow, so the more roots there are to hold the soil, so less soil is eroded, so more plants can grow.
Reinforcing Feedback Loop Example 2:  Some trained people adopt permaculture water management practices, then their plants are healthier (than before or than others' plants), other people will see and some will copy (adopt) the same practices, then their plants will be healthier, then other people will see and some will copy (adopt) the same practices, and so on.
Reinforcing Feedback Loop Example 3: In a project that produces chilli sauce from local chillies:  production of chilli sauce leads to sales of chilli sauce, which in turn could enable the project to take on an employee. This would enable them to make even more chilli sauce and sell even more sauce.
In the project mapped below, we see a simplified version of example 2 above.  Lead farmers are trained in water harvesting methods and as a result they implement these methods on their own farm.  Their neighbours observe the benefits, and some adopt the same practices themselves. Others see those additional water harvesting structures and copy. And others will copy these latest adopters, and so on.  This reinforcing feedback loop is represented on the map by creating a circle of the elements 'They establish water structures on their own farms' and 'Neighbouring farmers observe water harvesting structures and the benefits'.
Tip: You can check if your loop is right, by reading aloud the labels of the elements in the loop, inserting the words "and then" between elements. You should be able to round and round and round, and it should make sense and reflect what is happening in the the project or what you hope will happen.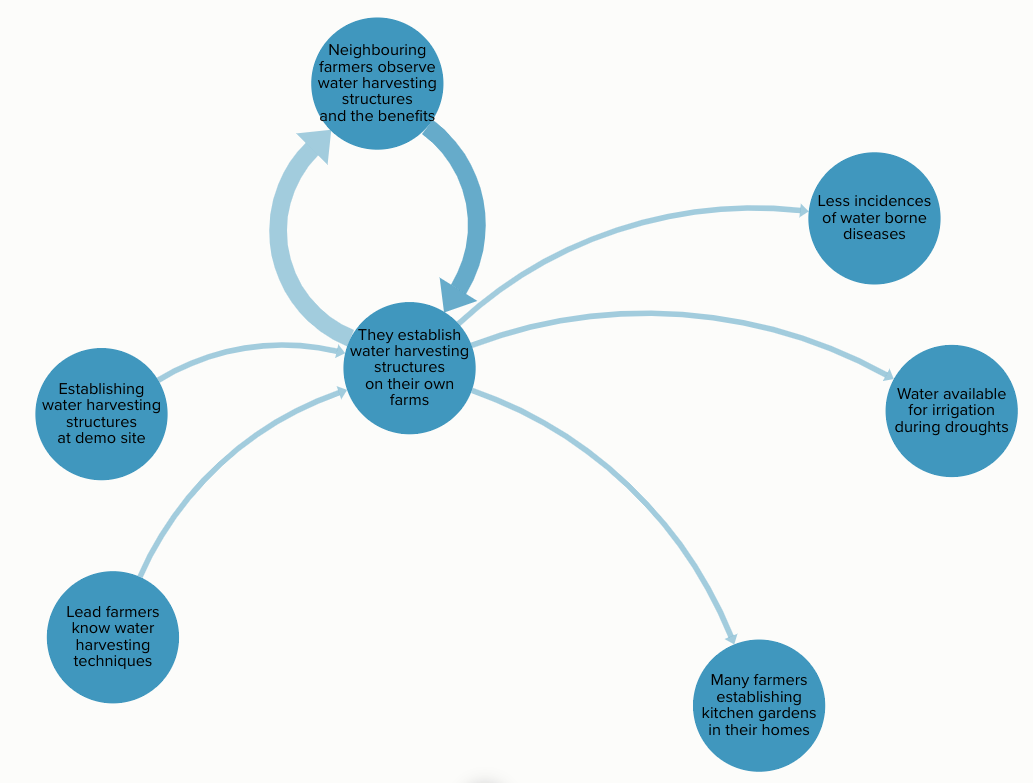 Add Project Inputs
You may also want to add to your map the inputs to the projects (the resources that the project supplies in order to make the activities happen).
Examples of inputs for a beekeeping project might be:  
bees
wood
tools
bee-keeping teachers.
Including inputs on a CPM will suit some projects and situations more than others, so this is optional.  There is trade off between showing the full 'theory of change' and cluttering your map with elements that don't need to. be there.  If you are not sure whether to map inputs or not, join the conversation in the community forum. 
If you do decide to add inputs, create elements and position them to the left of your activities and connect them to the activities which they relate to.
Add Assumptions to Map
You could also add any assumptions that your project has made.
Assumptions = things that are outside the control of your project that need to be in place for the activity to have impact
Example: a project trains people in beekeeping and an expected outcome is cash income from selling honey.  The projects assumes that there is a market for the honey.  The projct also assumes that there is land available for the bee hives. 
What assumptions has your project made?  You can add assumptions to your map by adding new elements (choose a new colour or decoration).  You could connect them to the output or outcome that they affect, or leave them floating (unconnected).