Change Pathways Mapping: What?
What?
A Change Pathways Map (CPM) is a visual representation of your project or organisation, as a system.   It shows the activities of the project and what happens as a result of these activities. It tells a story of your project or organisation, what it does and how that does or will affect people's lives.  It is a theory of change.
A CPM can help you to better understand your project and the cause-and-effect relationships within it.   It's also a neat way to describe your project to a variety of audiences.  Project participants, staff, funders, local partners, wider community and other stakeholder groups can all benefit from seeing the project laid out visually, and will often have insights and ideas to add.
Below is an example CPM. It is for a community permaculture project in Jhiljhile village in Nepal.   It's too small to read here, but you will be able to explore it properly later in this course, and we will be looking at another map in detail in the next lesson.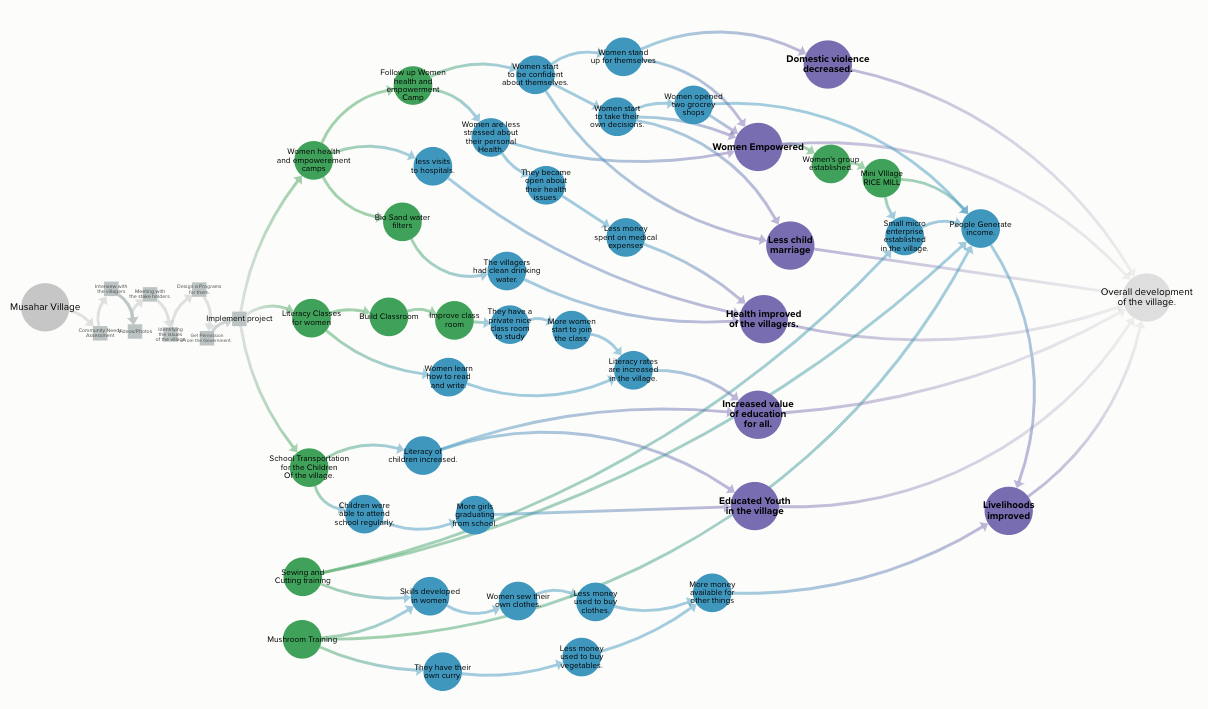 Why?
Creating a Change Pathways Map can help to elicit and document the underlying theory of change of your project or organisation's work.  The CPM process can be especially helpful for established projects that are working across a number of development 'sectors'.  Community-based permaculture projects often emerge and evolve (rather than start with a blueprint, a budget and a timeframe) and usually address multiple issues with several solutions.  (Each important function is supported by multiple elements, and Each element supports many functions).
Your Change Pathways Map can help you to:
Elicit and document your project's theory of change
Understand and communicate the complex relationships and cause-effect within your project and the community it serves.
Design your impact assessment, or Monitoring and Evaluation plan.
Identify key activities and outcomes.
Spot gaps in what the project or organisation is doing.
Vision, plan and encourage dialogue with project participants, team members, community, local authorities.
Communicate plans, progress and impact to funders and other stakeholders.
What can our maps tell us?
How is our work contributing to the impacts that we seek?
What is the relationship between the activities we do and the impacts and outcomes we seek?
Why are we doing the things we are doing?
All kinds of other insights about the project or organisation and how it works.
"A lightbulb moment for me was when I realised that the mapping process can be used as participatory planning tool with community members." – Kumah, Change Pathways Mapping course participant and founder of Centre for Sustainable Communities, Ghana.