Doing a quantitative assessment for Nutrition
Prerequisite:
The mini-course is highly recommended: Intro to Qualitative & Quantitative Evaluations (mini-course)
This describes the steps needed to do a quantitative assessment- ie that measures things.
Once you have made some plans for your MEL – drawn up your Theory of Change and produced a logframe you will have some ideas about what are the important parameters to measure. Some of these will need a special assessment or survey, others may come from your project documents.
Quantitative Nutrition Assessment
A quantitative assessment is likely to be linked to an Indicator you are measuring as part of your MEL plan. You might like to refer to some of the 'Nutrition Indicators' listed.
Here are some other examples of possible parameters (something you measure). In brackets the type of indicator it relates to :
Numbers of people attending training sessions (output)
Numbers of compost toilets built (output)
Amount of food produced (outcome)
Hours spent doing various activities by women (outcome)
Number of people who practice a behaviour (outcome)
Amount of food or food groups consumed (outcome/ impact)
Number of food groups consumed (outcome/ impact)
Households with adequate sanitation and water (outcome)
Number of children suffering from diarrhoea in the past 2 weeks (outcome/ impact)
The types of indicator for a Nutrition Assessment are arranged around the UNICEF model on the Causes of Malnutrition and Death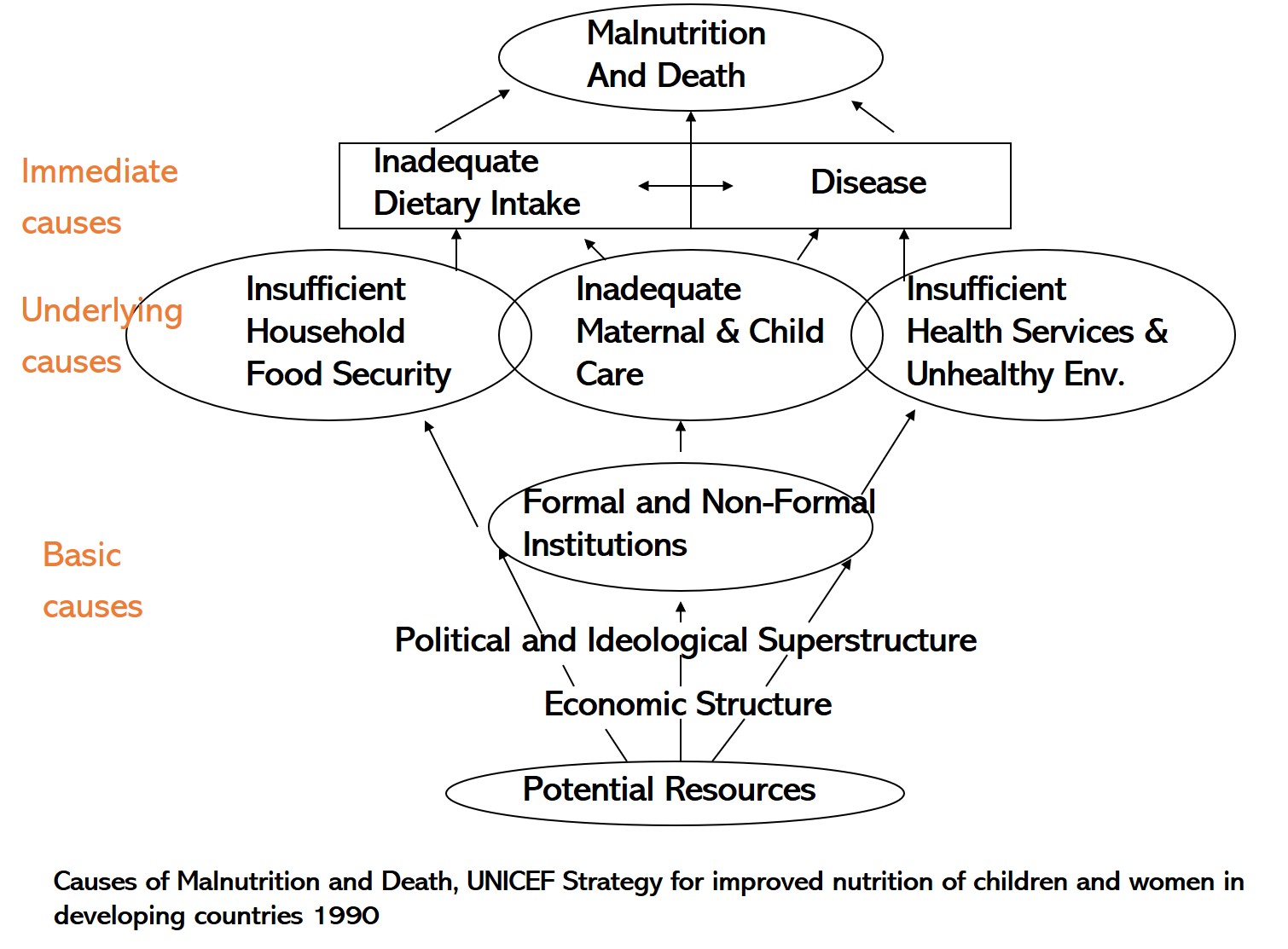 Types of Indicator 
More detail is available in the lesson on 'Indicators' Nutrition Indicators

| | |
| --- | --- |
| Indicators related to: | Topic |
| final impact | Nutritional status |
|   | Mortality |
| immediate causes | Diet |
|   | Health and disease |
| Underlying causes | Household food security |
|   | Care practices |
|   | Health and sanitation environment |
| Basic causes | Food production and food systems |
|   | Gender issues |
|   | Economic issues |
|   | Environmental issues |
Can you categorise the parameters above into this list of  types of indicators?
If you refer to ' Step by step guide to doing an Impact Assessment' lesson you will see the steps that are required.
The example of ' Doing a Dietary Assessment' will take you through these steps by way of example.