Organise and Analyse Stakeholders
Now that you have identified your stakeholders and thought about their relationship to your project, you can use  information from your table in Activity 1, to visually organise them according to their influence and their interest in the project.  This can provide useful insights about how to engage with each group of stakeholders in future, and how to involve them in your project MEL. 
Interest versus influence
The two dimensions that we will look at here are the stakeholder's interest in your project, and their influence or power related to the project. We can 'plot' (or position) each of our stakeholders on a chart according to how much interest and influence they have. See the diagram below for an example. Notice the arrows along the bottom and left hand edges of the chart. Influence increases you move up the chart, and interest increases as you move rightwards on the chart.
Example of Influence vs Interest Axis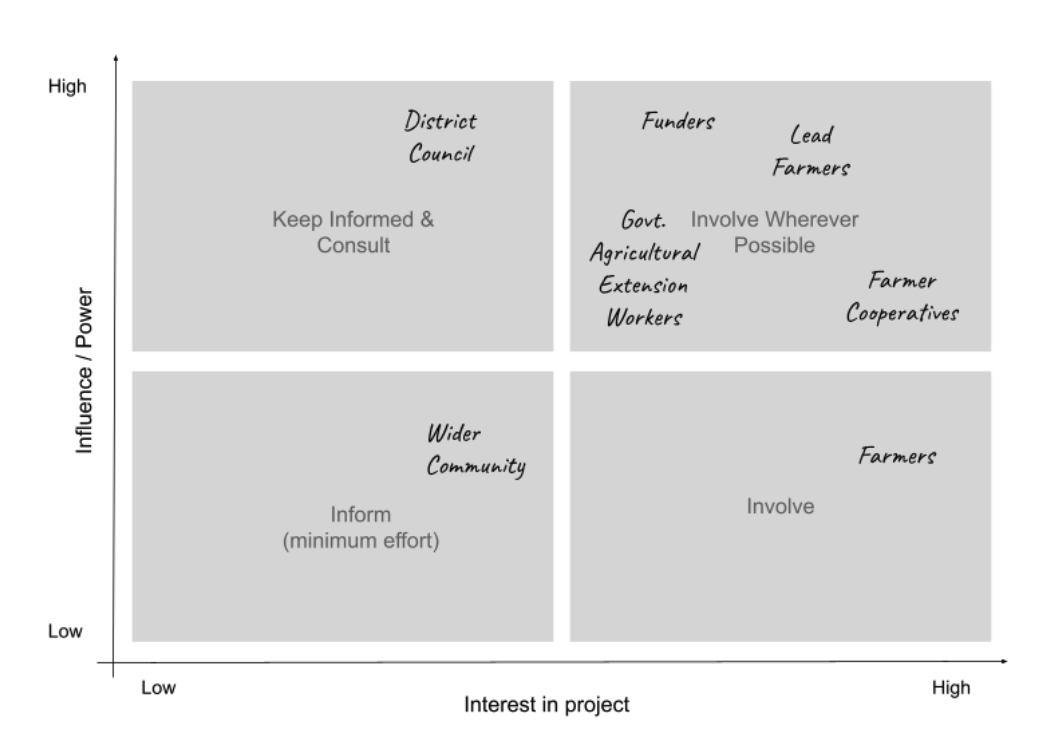 In the example above, the project team feel that Lead Farmers are very interested in their project and also have a high level of influence related the project, presumably with the farmers they work with. Accordingly, they have been placed in the top right corner of the top right quadrant of the chart.
Farmers are also very interested in the project but are considered to have a smaller influence. They have been positioned in the lower right quadrant on the chart.
The Wider Community are less interested than some other groups and have less influence, hence they have been placed in the lower left quadrant.
From the placement of stakeholders on the interest and influence chart, this project team might conclude that:
Lead farmers (and others) should be involved wherever possible
Farmers should be kept involved
Wider Community should be kept informed
District Council should be kept informed and consulted.
What would your stakeholder interest vs. influence diagram look like?  Let's find out!
Activity 2: Make a Stakeholder Influence vs. Interest Diagram for your organisation / project
Instructions
Work through your Stakeholder Table from Activity 1, and position each of your stakeholders on the chart, according to how much interest they have in the project and how much power or influence they have (in relation to the project and its work). You can download a blank chart for printing here, or sketch your own. 
Using your stakeholder analysis to inform your MEL plan
You have now identified and documented your project stakeholders and their some key characteristics.   The information that you have produced during this process can inform your approach to MEL.  
Activity 3: Take five minutes to review your stakeholder table and chart.  What insights have you gained? How will you use this information for MEL planning? For other purposes?  Is there anyone in your organisation that you want to share it with?
Tip: Other Permaculture Impact courses will ask you to consider your stakeholders at various points.  Keep your stakeholder table and interest vs influence chart in your MEL and refer back to it as needed, and from time to time as you develop your MEL plans.