Map making 1: Activities
Now that you have created a new map in Kumu, you are ready to start adding the activities of your project or organisation.
First, a quick reminder of what we mean by activity.
Activity = Something the project does
An activity is something that the project does. Some examples of activities that a permaculture project or organisation might do are:
Train farmers in permaculture
Set up a demonstration garden or farm
Organise farmers to produce local, organic seed
Create a syllabus for training farmers & NGOs
Literacy classes for women
Run women's health empowerment camps
Teach club members how to make compost
Establish water harvesting structures at demo site
What does your project do?  You may want to make a quick list of activities or consult with colleagues, or you may just want to start mapping the activities as you think of them, and then add more later.  You can leave your map and come back to it at any time.  As long as you have an internet connection, your map will automatically save on the Kumu server as you go along.
Add an activity to your map
The two basic components of Kumu maps are elements and connections.   To build your map, you will add elements and label them, move them to the desired position on the map, and eventually connect them to other elements.  Your first elements will be the activities of your project.  On your map, you will label your activity elements with names of real activities the project undertakes. This short video shows you how to add an activity and label it.
---
Add more project activities
Now go on to add as many of the project's activities as you can.  We suggest that initially you position the activities on the left hand side of your map, in a vertical line, something like this: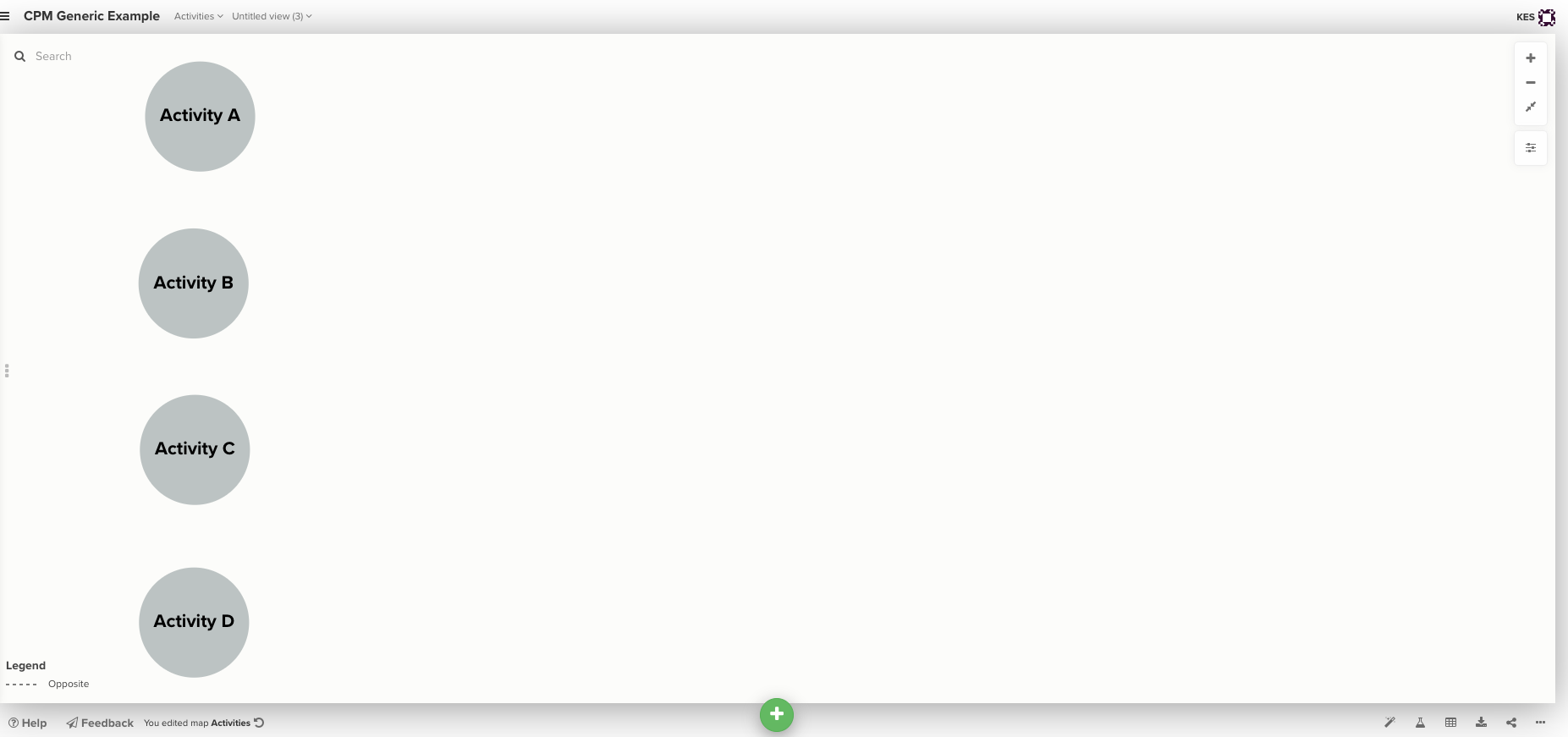 ---
Appearance of Map
There is no need to change the colour of elements (yet or at all), but it is possible to alter the appearance of the elements and connections in your map.  This is covered in the 'Bells and Whistles' section of this course, but we recommend that you wait until your map is almost finished before changing the decoration.
---
Tip: the undo button can be found bottom left of the screen and will undo most of the recent actions