Causes of Malnutrition
The Introduction to Nutrition (previous lesson) has introduced you to the different types of malnutrition. Here you will get to understand some of the possible causes.
The Causes of Malnutrition
Malnutrition results from a complex set of contributing factors including consumption and access to food, health and sanitation, education, gender relations, social equity, and the local social and environmental context.
Addressing malnutrition in a sustainable way and in all its forms requires understanding what are the causes at the level of the individual, the household, the community and the region. The causes can then be addressed through the Permaculture project and through linking with other projects or local systems as necessary. Permaculture projects may be able to help in the prevention of malnutrition related to the many possible causes that could be at play in a particular context.
The UNICEF conceptual framework of the causes of Malnutrition was developed in 1990 and is still relevant today (UNICEF 1990). The immediate causes of Malnutrition are 'inadequate dietary intake' and 'disease'. The reason that disease is so important to nutrition is the vicious cycle that exists between Malnutrition and Infection and Disease. To be well nourished it is necessary to both consume adequate sources of nutrients from food and be healthy. Without health it is difficult to be well nourished and without sufficient nourishment it is difficult to be well. This interaction is the foundation of Nutrition. The relationship between malnutrition and infection and disease is shown below – this is important because it shows how malnutrition can make infection and disease worse and vice versa. It also shows that when you improve disease – malnutrition is improved and vice versa- a win win!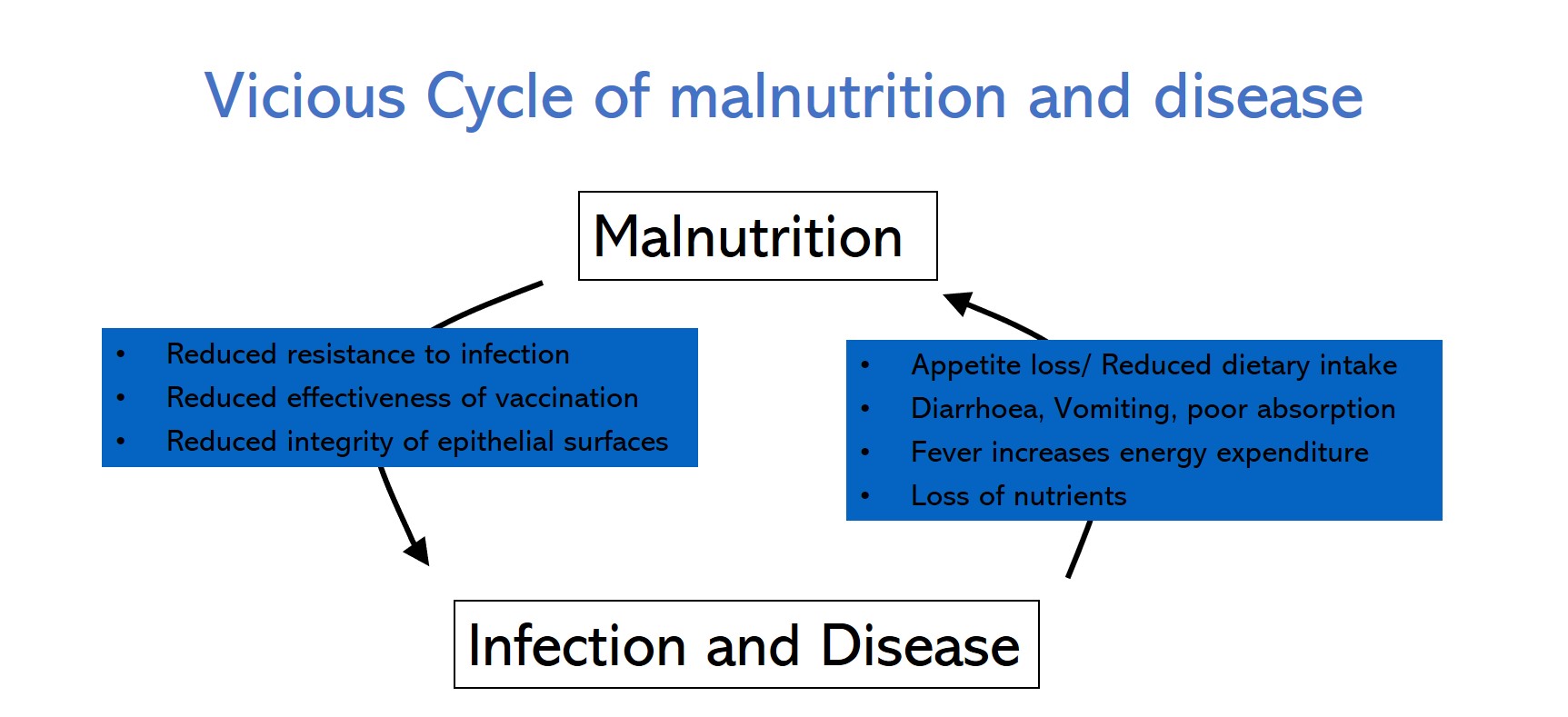 The main underlying causes of malnutrition relate to the two immediate causes and have been identified as 1) insufficient household food security, 2) inadequate maternal and child care and 3) insufficient health services & an unhealthy environment.
Household food security means access to food of sufficient diversity and quantity to provide for the nutrient needs of the household. However, having food available at the household level is not enough to ensure everyone is fed. The distribution to household members, knowledge of food preparation, time and care of caregivers and other resources are also needed: we call this 'maternal and child care' for the young child, but the concept of care may be extended to all household members. Because of the close relationship between malnutrition and health and disease, it is also necessary to have a sanitary and clean environment as well as sources of sufficient and quality water as well as access to health services. The third underlying cause is hence 'insufficient health services and an unhealthy environment'
UNICEF (1990). Causes of Malnutrition and Death, UNICEF Strategy for improved nutrition of children and women in developing countries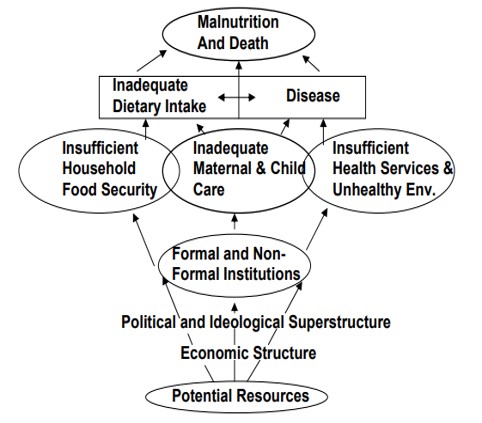 The basic causes of Malnutrition are potentially very diverse and link to these 3 underlying causes. For example, household food insecurity is linked to food grown, available in markets, food prices and these are affected by economic policies, agricultural production and other issues. Maternal and child care is related to gender issues such as the workload of women and women's empowerment and knowledge and other issues such as education policies. Insufficient health services are related to cost of health care and health policies and a healthy environment linked to provision of water and sanitation facilities amongst other issues. Therefore, the basic causes are very context specific and related to local issues.
To tackle all the important and relevant causes of malnutrition, it is necessary to plan an integrated project that deals with many different co-existing problems.  Within any community the causes will be specific to the political, social, economic, and environmental context. For example, if there is poor water and sanitation, then people are likely to suffer from frequent episodes of intestinal infection and poor food utilisation. If there is poor food security, inadequate dietary intake is likely, and so on.
The next lesson will help you start to understand what are the nutrition problems in your project area and to start to think about what could be some of the causes.